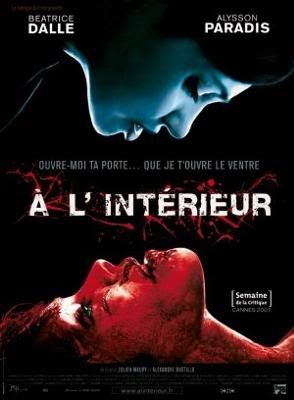 So I figured I would start off my first horror review with the best horror film I have seen in the past 10 years.....hell in the last 20. This is the kind of horror film that makes you miss the 80's hay-day of horror movies. I first saw this movie knowing absolutely nothing about it. The only thing I had read about this movie was that Fangoria called it 'a gore roller coaster gone off the rails'. So needless to say that was a bit intriguing.
It was 2am and my buddy and I were done seeing a midnight showing of the original Friday the 13th at the Music Box Theatre in Chicago and they were showing this for free right after so we figured we would stay and check it out. The movie starts off pretty strong with a car accident scene that pretty much sets the tone for the rest of the movie. The movie takes a minor break from the gore for a bit to develop the characters and set the mood/plot. Most recent horror films should take note of this.
The plot is basically a pregnant woman is home alone the night before she is going to get induced to have her child when this mysterious woman breaks in because she wants her child. It doesn't sound too in depth or anything but the movie does a good job developing characters who we care for and adds some great creep factor as well as interesting twist and turns into the plot. The movie also does a spectacular job with the gore. They limit the CGI blood that seems to be all the rage these days so it seems all the more real. Most recent horror films definitely seem to pull back a bit on the gore so they don't offend viewers or test audiences but the directors of Inside didn't seem to really care about any of that. Also isn't part of a horror film supposed to offend people to some extent? Anyways the final scene had the entire audience screaming and even I yelled a bit for them to hold back a bit on the gore. However, I applaud them for going all the way with everything. I should also mention that soundtrack to this movie added this very ominous feel to the movie and was the icing on the cake.
For my reviews I will break down each horror film into three categories and give the movie a final score based on the rating of each category. The three categories will be Plot, Gore, Scare Factor which are the three key elements to any horror movie.
Review Breakdown
Plot:4/5
Gore:6/5 (sorry they get bonus points for the final scene.....so sue me)
Scare Factor:5/5
Final Score:100%
Trailer: http://www.youtube.com/watch?v=ldUsz12kSQU
Please note that I will not be giving out perfect scores often if at all but this movie really deserves it. However you can argue that its not technically a perfect score due to the fact it got bonus points in the gore category but why argue semantics